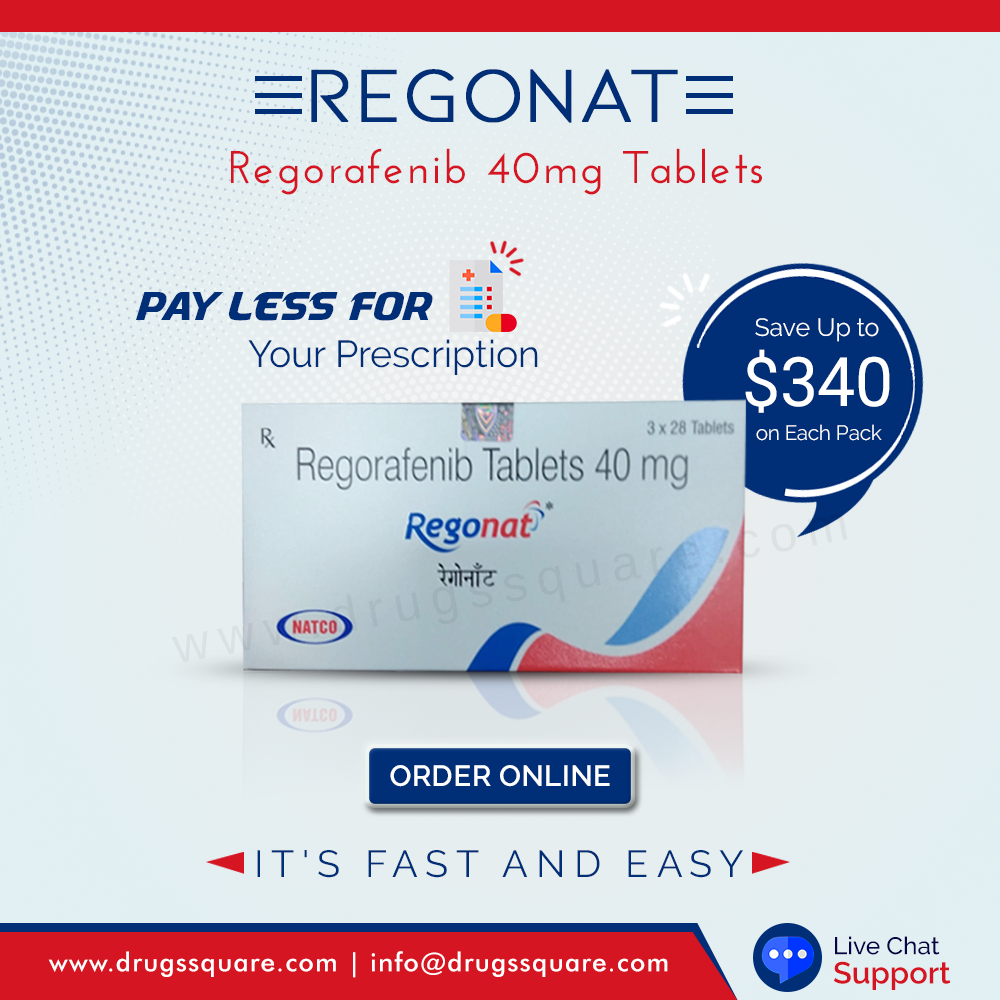 METASTATIC COLORECTAL CANCER - Colorectal cancer starts with a tumor in your colon or rectum. If cancer spreads to other parts of the body (for example, from the colon or rectum to the liver), it is called metastatic colorectal cancer (mCRC), or Stage 4 colorectal cancer.
HEPATOCELLULAR CARCINOMA - Hepatocellular carcinomas (HCC) are also known as primary liver cancers, hepatic tumors, or hepatomas. Conditions or diseases associated with HCC include Cirrhosis; Heavy and long-term use of alcohol and Chronic infection with hepatitis B or hepatitis C.
GASTROINTESTINAL STROMAL TUMOR - A gastrointestinal stromal tumor (GIST) is a relatively rare type of cancer that most commonly develops in the stomach. However, these tumors can occur anywhere along the digestive tract — from the esophagus (swallowing tube) to the stomach, small intestine, colon, and rectum.
REGONAT - Multikinase Inhibitor (MKI)
Information For Patients with Advanced Colorectal Cancer, Liver Cancer & GIST
Regonat 40 mg tablet (Natco Regorafenib) has been approved to treat colon or rectal cancer that has spread to other parts of the body i.e. Metastatic Colorectal Cancer (mCRC). It is also indicated for the treatment of patients with hepatocellular carcinoma (Liver Cancer) and locally advanced, unresectable, or metastatic gastrointestinal stromal tumor (GIST). Regonat is an oral multikinase inhibitor that works by inhibiting chemical messengers called tyrosine kinases or multikinase in cancer cells. Blocking these messengers stops the cells from growing and dividing.
This medicine is available in the form of tablets that you can take in your own home. The usual dose of Regonat is four (40 mg tablets) per day. This is equivalent to a total daily dose of 160 mg. Your doctor will usually ask you to take Regonat 40mg for 3 weeks and then to stop for 1 week. This is 1 cycle of treatment. Your doctor may change your dose. Take the dose of Regonat that your doctor has prescribed for you. Take it at the same time each day after a low-fat meal (ideally at breakfast). A low-fat meal contains less than 30% fat. Do not hesitate to ask if there is anything that is not clear to you. It is important that you think about the quality of life and talk with your clinical team about your own preferences.
What You Need to Know Before You Take Regonat 40 mg Tablets
Communication is important throughout cancer care. Research shows that patients who discuss their medical problems and other concerns with their doctor have a better quality of life than those who don't. Take special care with Regonat
➡ if you get an infection.
➡ if you have any liver problems.
➡ if you had or have any bleeding problems.
➡ if you get severe stomach and bowel problems (gastrointestinal perforation or fistula).
➡ if you get chest pain or have any heart problems.
➡ if you develop a severe and persistent headache, visual disturbances, seizures, or altered mental status (such as confusion, memory loss, or loss of orientation).
➡ if you have high blood pressure.
➡ if you have or have had an aneurysm (enlargement and weakening of a blood vessel wall) or a tear in a blood vessel wall.
➡ if you recently had, or are going to have a surgical procedure.
➡ if you are allergic to regorafenib or any of the other ingredients of this cancer medicine.
➡ if you experience skin problems.
➡ if you are pregnant or planning to become pregnant.
➡ if you are breastfeeding.
Before you take Natco Regonat 40 mg tell your doctor if any of these conditions apply to you. You may need treatment for them and extra tests may be done.
Monitor Your Treatment
Your doctor will monitor how well Regonat Regorafenib tablet is working. This means having CT scans every few months and talking with you to understand your symptoms. Be sure to talk with your doctor or nurse frequently about new or worsening symptoms. Your health care provider might change your treatment based on how your body or your cancer responds.
Regonat is a generic version of Stivarga, hence the price of Regonat tablet is comparatively 80% to 95% less than Stivarga, depending on the generic competition. You can buy Regonat online at Drugssquare - save up to $340 on each pack of 28 tablets. But, are generic drugs safe? According to the U.S. Food and Drug Administration (FDA), generic medications are as safe and effective as the brand-name equivalent.
Natco Regorafenib 40 mg - Regonat Tablet Supplier and Exporter in USA, UK, Philippines, Thailand
Drugssquare is a customer-centred company that takes pride in loyalty and integrity. We sell Natco Regonat 40mg (Regorafenib) and other generic cancer products good services to our customers at the best available price. We allow our customers to place orders at their easiest convenience through our fast home delivery services. We ship worldwide with tracking availability. The Countries We Cover : Argentina, Ecuador, Lebanon, Hungary, Japan, USA, UK, South Korea, Thailand, Philippines, Singapore, Australia, UAE, Malaysia, Hong Kong, China, etc.
For questions on our distribution services or to get started with online ordering, please Call/WhatsApp 91-9958550955 or send us an email at info@drugssquare.com