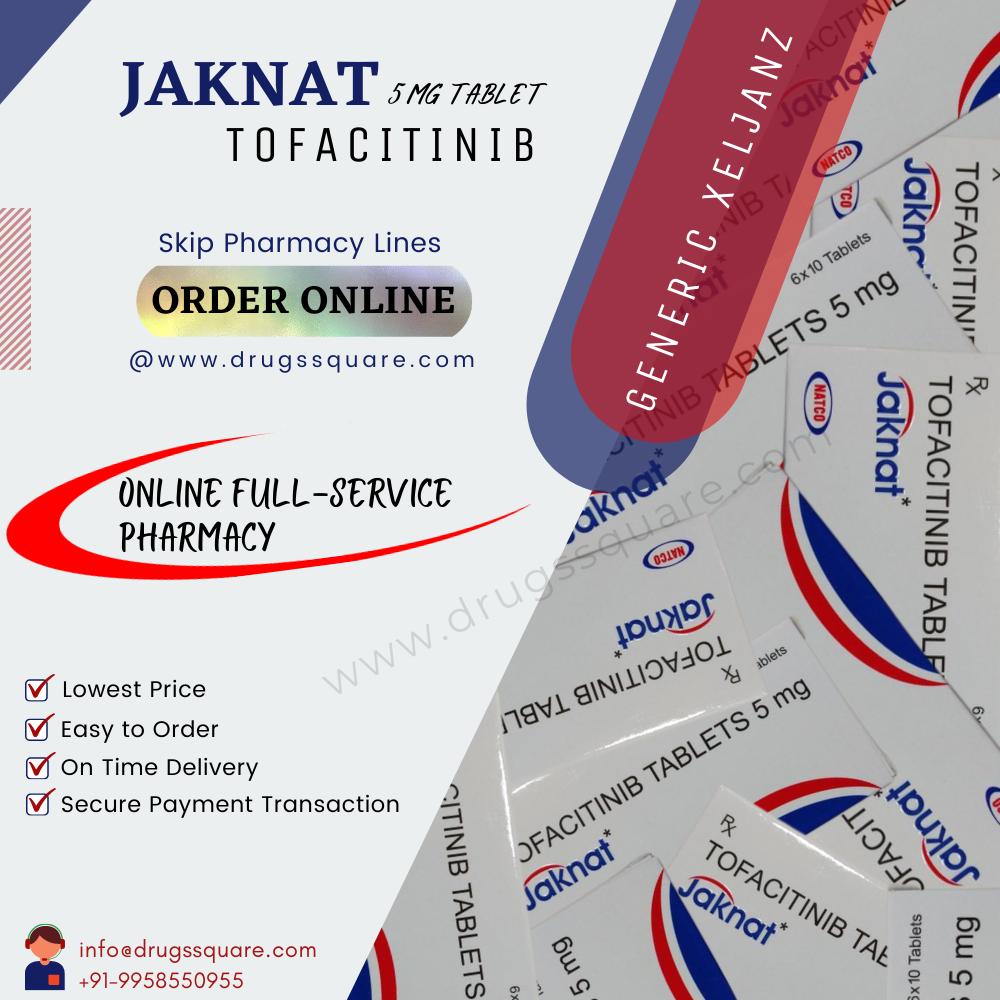 Jaknat (Tofacitinib Citrate) is an oral drug used to treat adults with moderate to severe active rheumatoid arthritis (RA), active psoriatic arthritis, moderate to severe ulcerative colitis. Also known as generic XELJANZ, this medicine has exactly the same dosage, intended use, effects, side effects, route of administration, risks, safety, and strength as the original drug.
The most obvious difference between a generic and a brand-name medicine is the price. Jaknat 5 mg price is on average 80 - 85 percent lower than that of Xeljanz tablets. Many people become concerned because of its lowest-cost than the brand-name version. They wonder if the quality and effectiveness have been compromised to make the less expensive products. Thus, we want to point out that generics are as safe and effective as brand-name drugs.
Brand Name: Jaknat
Active Ingredient: Tofacitinib
Manufacturer: Natco Pharma Ltd
Strength: 5 mg
Dosage Form: Tablet
Packing: Pack of 60 Tablets
How does it work? This medicine works by blocking the activity of an enzyme called Janus kinase. This enzyme is responsible for sending inflammatory signals in the body. Blocking this enzyme helps to decrease the immune reaction which causes RA, PsA, and ulcerative colitis.
How long does it take to work? Jaknat 5 mg tablet starts working shortly after you start taking it. In clinical studies, some people had fewer symptoms within the first month after starting the drug. However, each person's response to Tofacitinib will be unique.
How to take Jaknat 5mg - It is usually taken by mouth twice a day (one tablet in the morning & one tablet in the evening). Try to take it at a similar time every day. You can take it with or without food. Patients should not stop or change their dose of Natco tofacitinib without first talking to their health care professional, as doing so may worsen their condition. Patients taking this medicine should seek medical attention immediately if they experience symptoms of a blood clot in their lungs or other unusual symptoms such as:
➡ Sudden shortness of breath or difficulty breathing
➡ Chest pain or pain in your back
➡ Coughing up blood
➡ Excessive sweating
➡ Clammy or bluish-colored skin
Do I need any special checks while on Jaknat 5 mg (Tofacitinib)? Your doctor may perform blood tests before you start taking this medicine, monthly for the first 3 months and then every 3 months, to determine if you have a low white blood cell (neutrophil or lymphocyte) count, or a low red blood cell count (anemia). You should not receive Jaknat tablets if your white blood cell (neutrophil or lymphocyte) count or red blood cell count is too low. If needed, your doctor may interrupt your treatment to reduce the risk of infection (white blood cell counts) or anemia (red blood cell counts).
Your doctor may also perform other tests, for example, to check your blood cholesterol levels or monitor the health of your liver. Your doctor will test your cholesterol levels 8 weeks after you start receiving treatment. Your doctor may perform liver tests periodically.
Can I take other medicines during treatment? If you are about to start taking any new drugs, you should tell the doctor that you are taking Jaknat 5 mg tablets. Do not take 'over-the-counter' or herbal supplements without first talking to your pharmacist.
Who should I talk to if I'm worried? If you're worried about your treatment or have any questions, talk to your healthcare team. They should be able to help you with any queries such as why it's been prescribed, what the correct dose and frequency are, what monitoring is in place, and what alternatives may be available for you. Your team should give you clear information, talk with you about your options and listen carefully to your views and any worries or concerns you may have.
Buy Jaknat Online, Tofacitinib Brands at Affordable Price - Drugssquare is a fast-growing online pharmacy that empowers people to buy medicines from the convenience of home 24/7 and 365 days a year. We facilitate a comfortable purchasing experience from anywhere, you can shop from home, office, or even on your way back from the doctor. Orders will be delivered to your doorstep. We supply Jaknat 5 mg Tofacitinib tablets in the USA, UK, UAE, Australia, Singapore, Philippines, Malaysia, Nigeria, Sweden, Thailand, South Korea, Saudi Arabia, South Africa, Romania, Indonesia, Japan, Vietnam, Russia, and other international markets.
For more information, Contact Us -
Web: https://www.drugssquare.com
Email: info@drugssquare.com
Call/Whatsapp: 91-9958550955
24*7 Live Chat