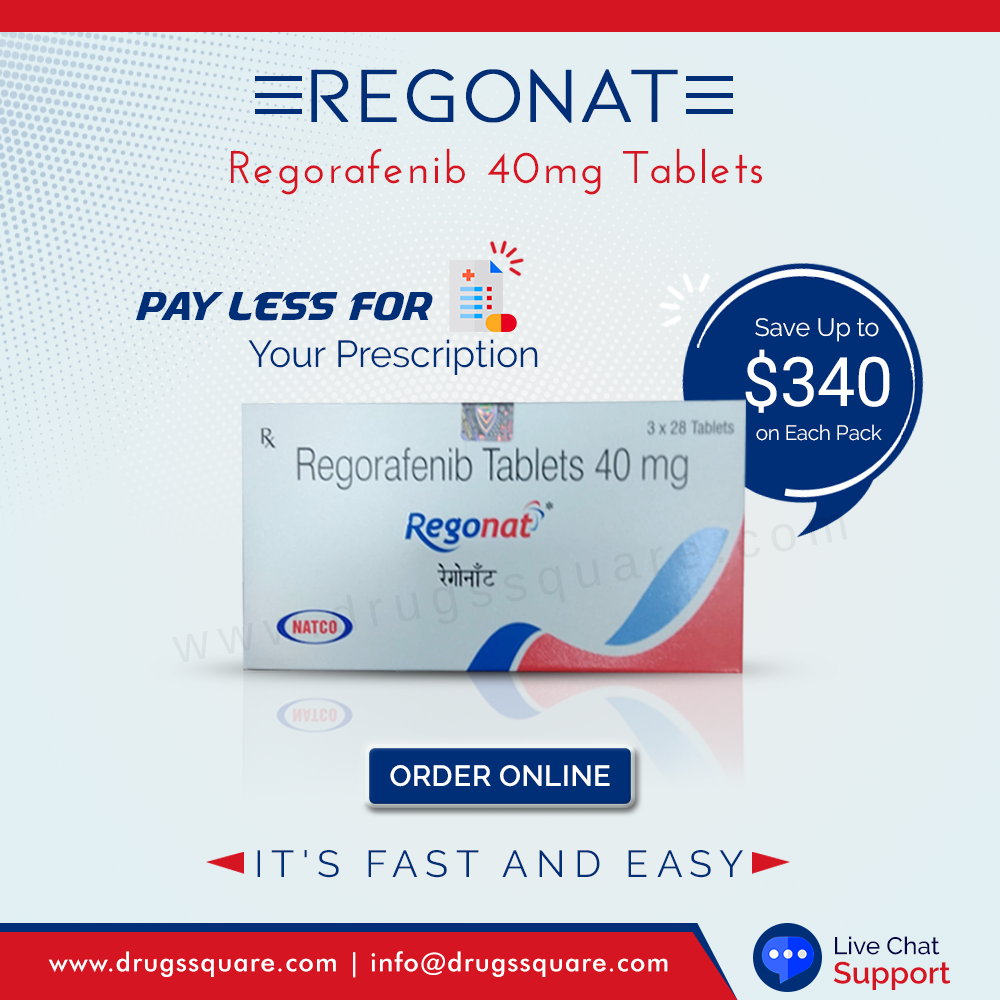 Brand Name: Regonat
Active Ingredient : Regorafenib
Manufacturer Company: Natco Pharma Ltd.
Strength : 40 mg
Dosage Form: Tablet
Packing: Pack of 28 Tablets
Regonat 40 mg is an oral medicine that targets proteins in cancer cells and stops the cancer cells from growing. It is used to treat colorectal cancer, gastrointestinal stromal tumors (GIST), and liver cancer. The recommended dose is 160 mg (4 tablets of 40 mg) taken once a day for 3 weeks followed by 1 week off. This 4-week period is considered a treatment cycle.
If a dose is missed, then it should be taken on the same day as soon as the patient remembers. The patient should not take 2 doses on the same day to make up for a missed dose. In case of vomiting after regonat regorafenib administration, the patient should not take additional tablets. Treatment should continue as long as the benefit is observed or until unacceptable toxicity occurs.
What should you watch for while using Regonat 40 mg tablets?
➡ This anti-cancer medication may make you feel unwell. This is not uncommon, as chemotherapy can affect both healthy and cancerous cells. Report any side effects. Continue your course of treatment even though you feel ill unless your healthcare provider tells you to stop.
➡ You may need a blood test while you are taking Regonat tablets.
➡ Do not get pregnant while taking this medication or for 2 months after stopping it. Women should tell their doctor if they want to get pregnant or think they might get pregnant. Men should not father a child while taking this oncology medicine and for 2 months after stopping it. There is a potential for serious side effects to an unborn child. Talk to your doctor or pharmacist for more information.
➡ Do not breast-feed an infant while taking regorafenib or for 2 weeks after stopping it.
➡ This medicine should be started at least 2 weeks following major surgery and the site of the surgery should be totally healed. Check with your doctor before scheduling dental work or surgery while you are receiving this treatment. Talk to your doctor if you have recently had surgery or if you have a wound that has not healed.
➡ Provide your health care provider a list of all the medicines, herbs, non-prescription drugs, or dietary supplements you use. Also tell them if you smoke, drink alcohol, or use illegal drugs. Some items may interact with this medicine.
Living well during treatment - your self-care toolkit
The treatment plan you develop with your oncologist will help your body get healthy — but it focuses only on the disease, not the rest of you. A self-care plan is also important. A self-care plan helps you stay as healthy and as active as possible during your treatment. It can help you keep your life more balanced. Your cancer team or personal physician can help you develop a self-care plan. It might include:
➡ Physical activity to help you stay strong.
➡ Healthy eating to get the nutrition you need.
➡ Relaxation techniques to manage stress.
➡ Positive thinking to keep a hopeful attitude.
If you require additional information about Regonat 40 mg price, usage, dosage/administration, manufacturer, side-effects, storage, how to buy, and substitutes, visit Drugssquare Pharmacy or email us at info@drugssquare.com